Intagent homepage widgets allow unlimited flexibility.
Intagent has begun to release it's next generation Real Estate website interface starting with homepage widgets. This Web 3.0 technology allows users to add unlimited content on their homepage and move it to different locations with ease. Users will notice this enhancement comes in extremely handy with new widgets from Facebook, Twitter, and many other social portals coming out every day.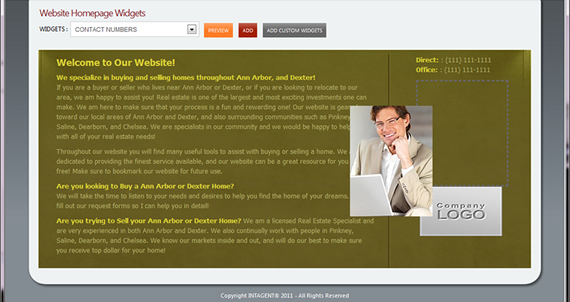 Widgets are small snippets of website coding that can be placed into a clients website to do different functions. Similar to the way Apps have become popular to smart-phones, widgets are essentially a similar plugin for websites. Intagent real estate website users now can take advantage of these widgets for networking, as well as implement unique codes for their website in forms of anything from 'click-to-call' buttons, to current mortgage rates.
"Our new widget system gives customers the unique ability to add unlimited content that they now desire. Unlike static websites of the past, our users have the flexibility to customize their websites in ways that were never before possible." stated Roxan Guingao, a Senior Developer on the project. Look for these new features to start showing up in Intagent websites beginning September 1st!
If you are new to real estate, getting a real estate website, or are in need of a upgraded website, be sure to stop by Intagent.
Intagent is a leading provider of Real Estate Websites and can help you with anything from domain names to a customized solution that can fit your budget. With new features coming out often, and a friendly knowledgeable staff, it's no wonder more real estate professionals choose Intagent than anywhere else!